We take personal satisfaction in handcrafting each of our all-natural, vegan Shea Butter Soaps, using the finest fruit and vegetable oils, shea butter, essential oils and/or ground flowers, herbs or oatmeal. And, of course, we DO NOT test on animals!
You may ask, "Why Natural Soaps?". We suggest you ask, "Why Artificial, Synthetic, Chemical Soaps?".
Most people do not realize that the "soap" they purchase in grocery stores are actually detergent bars. Next time you're shopping, look closely on the label, no where on the label will you see the word "Soap"! Commercial companies make these detergent bars using a blend of chemicals, artificial colorants and fragrances, which strip the skin of its natural oils and moisture. Feel free to visit our 'How Our Soaps Are Made' page for details on the process we use to provide our nourishing bars of real soap!
Our extensive variety of Shea Butter Soaps include Lavender, Patchouli, Lemongrass & Oatmeal, etc. - all scented and colored with essential oils and/or ground herbs, flowers or oatmeal.
Our Shea Butter Soaps and Gifts are available not only for individual customers, but for Wholesale customers, as well, such as gift shops, day spas, etc.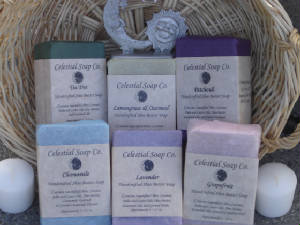 From Top, Left to Bottom, Right: Tea Tree, Lemongrass & Oatmeal, Patchouli, Chamomile, Lavender, Grapefruit